When Spotify first hit our App store it changed the way we listened to music. It is argues that the streaming business model saved the music industry whilst others say Spotify is the head figure of its corruption and fall. Either way Spotify has revolutionised how we consume music. So what are the secrets behind this ground breaking company?
How does Spotify compare?
Like all markets there are competitors. In the digital world it was Google vs AltaVista, in social media it was MySpace vs Facebook. Spotify is up against the likes of Apple Music, Tidal and Pandora which this year accepted a $480 million investment to compete with Spotify. Whilst Pandora carries more monthly active users in the US, Spotify is the #1 most downloaded music app in the US. If it continues to grow its user base, Spotify will quickly take the lead overall.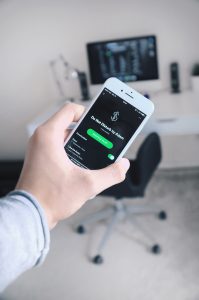 Business Highs and Lows
On paper, the results are remarkable. In 2016 the company has €2.9 billion in revenue with is an increase of 52%. The company also announced an increase in users from 140 million regular users and 50 million paid subscribers. However, its revenue growth has slowed compared to 2015's 78% increase and the losses are rising. 2016's net loss totalled at $600 million compared to 2015's $257 million. The biggest expense for the company is the pay-outs to record labels and licensing rights. With Spotify going public in the near future this will ultimately have an effect on their future financial figures.
  
Proposition-simplifying
Rather than Price-simplifying, Spotify chose to proposition-simplify. Just a few years ago physical music was still popular and the idea of buying a digital copy on iTunes was the new modern. Fast forwarded to Spotify launching their services where you can choose freemium or a premium subscription. Freemium users can access their vast catalogue of music with interruptions from adverts and no offline option. To create their premium market the paid subscriber could enjoy their music ad-free with offline playlists making it more simplistic and desirable to use.
Data Driven
With millions of users listening to music every day you are bound to have an astonishing amount of data and intel to analyse. Data is a primary factor in the decisions company's make. Once obtaining the data it uses the information gathered to inform the algorithms and programmes to explore the insights allowing the correct changes to be made. This impacts the users experience when listening to music. A prime example of this is Spotify's Discover Weekly app which is tailored specifically to you by what you've previously listened to, who you follow and suggests who you may like.
Focusing on the Artists
Recently, the music streaming company has focused its efforts on how they share their large amount of data with musicians and managers with their new Spotify for Artists app. This provides access to in-depth analytics from what playlists generate followers to where you are ranked in which country. Similar to Google analytics for musicians. It allows musicians to have more control over their music in Spotify and see put the data into a call to action.